New Nissan Rogue Sport for Sale in Springfield, NJ

The New Nissan Rogue Sport
When it comes to compact SUVs, the options are nearly endless. The 2020 Nissan Rouge Sport is no exception to the rule, and this particular automobile is the performance version of its standard counterpart. The Rogue Sport is meant to be driven, and it can take some punishment thanks to its solid chassis and frame. All of the usual components can be found here at our Springfield, NJ dealership, including premium levels of comfort as well as high-tech gadgets.
Performance
The Nissan Rogue Sport can get you where you want to go and where you need to be. The SUV's Eco mode setting allows for maximum fuel efficiency because it will adjust the response to the transmission and engine. The vehicle's sport steering guides you in the precise direction of travel. The 141-horsepower engine is paired with a CVT transmission via XTronic technology. Active Drive Control adjusts the engine's torque, which comes in handy on bumpy surfaces and uneven road conditions.
Safety
The new Nissan Rogue Sport offers an advanced airbag system that provides all-around protection, including front, side, knee, and roof mounted airbags. Vehicle Dynamic Control monitors your steering and will compensate for oversteer/understeer if correction is needed. This SUV's Traction Control system will instantly reduce engine power if front wheel slippage is an issue, keeping you on track. There's also a tire pressure monitoring system. If your tire pressure gets low, then the driver will get an alert. Radar-based sensors have also been added for preventive safety capability, monitoring the road for hazards and obstacles.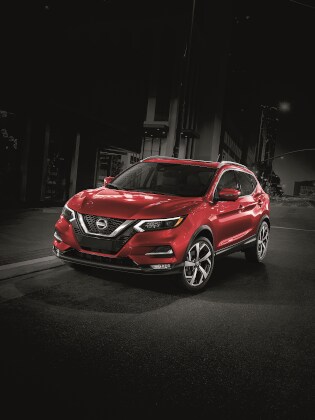 Features
First and foremost, the 2020 Nissan Rogue Sport can seat up to five persons on some of the most premium of fabrics. Of course, Nissan utilizes the strength and comfort of fine leather. The steering wheel is also wrapped in leather for additional comfort. This roomy cabin will yield over 60 cubic-feet of cargo volume, but that's when the rear seats are folded down. In addition to that, the Divide-N-Hide cargo organizer will protect your personal belongs while keeping them out of sight.
Android Auto and Apple CarPlay are also integrated into this advanced system. Streaming your favorite tunes couldn't be easier. There's also Door-To-Door navigation as well as a seven-inch multimedia display. The options are nearly endless with this compact SUV. Drivers can choose from multiple trim levels, including the Nissan Rogue Sport S, Nissan Rogue Sport SV, and Nissan Rogue Sport SL.
We would love for all interested SUV enthusiasts to swing by our Springfield Nissan dealership to get an up-close look at this amazing automobile.